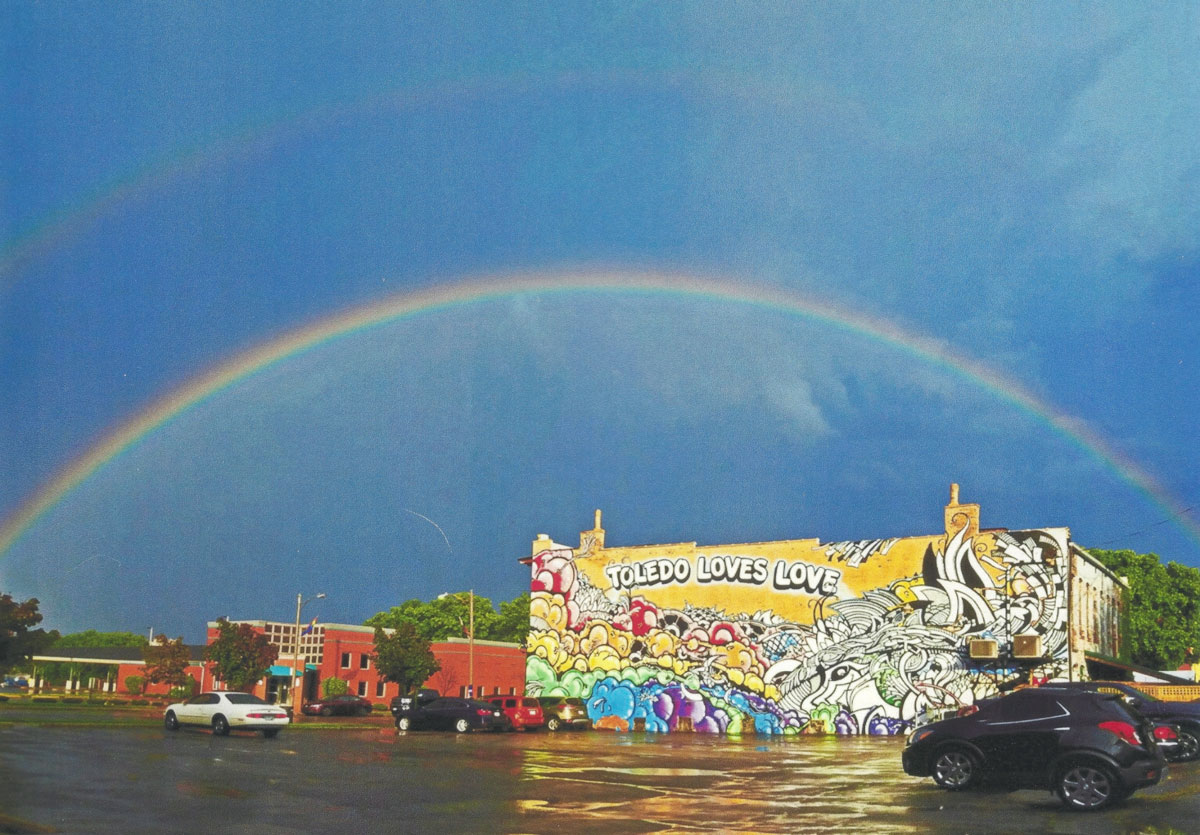 "The Love Wall" Will be restored for it's 10-year anniversary!
The Love Wall will get a little love this summer. Original artists of the TOLEDO LOVES LOVE mural at Adams and 13th Street, Mr. Taylor and MEDE, will freshen up and enhance the paint. Lighting will be added and updated. Original organizer, Rachel Richardson and George Thompson, owner of Georgjz419 Food, Fun, and Spirits, are raising $15,000 to purchase materials and equipment, lighting, and pay the artists. Restoration will be completed before Love Fest on July 16th.
"The Love Wall" background:
In the Summer of 2012, before same sex marriage was legal and recognized in every state, Rachel Richardson's best friend, Lucas County's Domestic Violence Prosecutor Rebecca Facey married BGSU Instructor Angie Carriker. Their wedding was in Michigan and then they traveled to New York City for a legal marriage license. "The Love Wall" was a gift to the couple and a declaration that in Toledo, we love and support all love. Since then, "The Love Wall" has become an iconic destination. It is the location for Equality Toledo's Love Fest and a backdrop to hundreds of engagement, wedding, senior photos, commercials, and videos.
In June 2015, marriage equality became the law of the land. Since then, the Supreme Court has shown that progressive laws are in danger of being overturned as evidence by the leaked draft of a ruling to overturn Roe v Wade.  Many are warning that it may not be long until marriage equality, inter-racial marriage, and the like may be in danger. We need a hopeful symbol like the "The Love Wall" now more than ever.
Tax deductible donations to cover the cost of restoration can be made to Equality Toledo at www.equalitytoledo.org with specific attention to "The Love Wall" or to Georgjz419 at 1205 Adams Street or online here:
Contact Information:
Rachel Richardson
419-810-5804
[email protected]
George Thompson
419-304-5001
[email protected]